Clever Kitchen Storage Solutions for a Stunning Interior
The brand name Kessebohmer is synonymous with smart kitchen storage solutions. Designed and built in Germany, Kessebohmer's range is mind-boggling and extends from corner cabinets and base cabinets all the way to drawers and pantry storage solutions, to encompass the whole gamut of kitchen storage needs.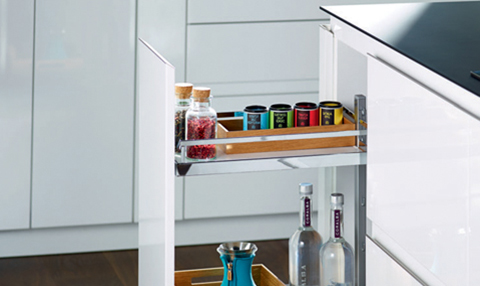 Efficient Corner Cabinets
Today's innovative answer to storing everything from jars and bottles to pots and pans, Kessebohmer's corner cabinets combine the tried and tested revolving cabinet with Kessebohmer's Arena shelving to maximize space for optimum storage and achieve convenience that lets you spot exactly what you need with every turn!
Savvy Base Cabinets
Kessebohmer steals your heart with a wide range of innovative options to suit your unique needs, from base pullouts and cabinets designed exclusively for your cleaning agents and even a sturdy range of waste cabinets. With accessibility and good organization taken care of, the ordinary base cabinet becomes more than just a little extraordinary with Kessebohmer on the job!
The Modern Pantry
While the Dispensa range renders the tallest of cabinets not just accessible but also keep all articles in plain view, Tandem simultaneously increases access while also improving storage capacity greatly. Adjustable to accommodate your specific needs, these ranges bring to you the latest in design and convenience. The Convoy Lavido range, on the other hand, is a tall pull out well-suited for homes and pantries, and also for dining rooms and contemporary offices to boot! Last but not the least is the Convoy Centro range, free-floating shelves that do away with conventional frames and other structures and also isn't restricted by heights.
Breathtaking Wall Cabinets
The Twister puts an end to reaching deep into the back of a corner wall cabinet to find what you need and replaces it with a revolving storage solution at the perfect height for the dishes and china you use every day. A specialty Spice Rack, meanwhile, offers non-slip shelves that keep all your spices right where you left them. Choose from the door mounted or pullout version and either way you'll have better access to what you use most often. Also available is the path-breaking iMove range – the intelligent pull-down system for wall cabinets.
Linero 2000 Backsplash
Designed for the home cook who keeps everything close at hand, the Linero 2000 range of backsplash systems stores all the essentials from spices and oils to ladles and knives in plain sight, while sturdy mounting rails keep a low profile against walls and concealed connections add streamlined style.
Add to these a wide of collections of drawers that keep your plates and cutlery neat and tidy and what you have is a range of kitchen storage solutions that spans the entire range of your needs and meets them without compromising any front.